NCAA Football 14: Pro Style Offensive Breakdown
The Pro Style offensive scheme is easy and if not the easiest to pick up and run then the others that are ran in college football. I am generally a defensive guy but in NCAA I run a hybrid LSU/FSU Pro-Style offense. The offense is balanced, requiring offensive lines that are adept at both pass and run blocking, quarterbacks with good decision-making abilities, and running backs who are capable of running between the tackles along with vision of zone blocking.
This write up I hope will serve as a general overview of the personnel, scheme, and players to recruit to the system. If it is somewhat successful, I will come back and dive into the playbook and set up a game plan to orchestrate on gameday.
Personnel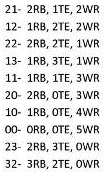 The Scheme:
First, it is called a pro-style offense because it resembles what the NFL teams typically run. The main characteristic is that the quarterback takes snaps under center. The default personnel on the field is (and this is not set in stone) five offensive linemen, one quarterback, one tight-end, one running back, one full-back, and two wide receivers. You would like to aim for a balanced offense, by calling pass and run plays evenly.
This is best to do by establishing the run first and then using play-action to influence the defense in what the offense wants to do. Once a team respects your ability to run the ball, they have to send more personnel forward to try and stop it. This opens up play-action, giving the offense a chance to make big yards through the air.
A lot of times you will see teams go two tight-end sets in which they can exert their power in the run game or go play-action/pass plays and use the advantage on the linebackers. Sometimes a TE might be labeled an "H-Back," basically a TE in the FB position in which they can block but better at running routes and coming out of the backfield.
With a good pro style offense there isn't a true scheme to stop it, you can only show up that day and be better by "punching them back in the mouth". A good pro style scheme is about lining up the best 11 players at their position and making you stop them, even when you know exactly what's coming. When you line up in the set that just says "I dare you to stop us" to the defense, it is also a slap in the opponents face because you know what is coming but we don't think you can stop it. And then, later on in the game, when they line up in that exact same formation but a new wrinkle comes in, to the fact of play-action and ran successfully, that is the testament to the game within the game.
I personally in NCAA like the LSU/FSU pro-style schemes, they are usually about the same pro-style theme considering they once and currently employ Jimbo Fisher. I like a strong arm QB that can be mobile, someone that can stand in the pocket and throw darts as they go through progression but can also get out on the edge and put stress on the defense with his legs. I guess you could say that it is a pro-style offense with a few spread influences because of the mobile QB in which the speed option and read option are included in the playbook.
A HB that can accelerate, quick agility and then have the top end speed while reading power blocking and running between the tackles is something you look for. Then also the acceleration, agility and speed helps in reading the zone blocking when given stretch or elongated handoffs. You will typically carry a big bruising tailback and use him as a thunder while also carrying a speed back that will take the stretch and screen plays that will be the lightning.
It all boils back down to imposing your will on the defense, running the ball down the other's throat and once you can do that the whole gameplan will open up which will allow you to have your way. I love the pro style scheme, it is about precision as much as it is about power, a certain strategy just as much as it is about physical skills.
Everyone likes putting up points in a hurry, but that isn't always going to happen. I'm a big fan of the the game within the game. Not just being bigger, faster and stronger than an opponent, but going into a game, being a bully and daring them to stop me. Call me old school, traditionalist: lining up, linemen firing off and mauling the defense while the fullback cleans up the second level. A quarterback that makes his reads through progression even though he has the option to get out of the pocket to make something happen.
You can have your mastermind slick Dana Holgersen scheme, your Leach Air Raid, Sumlin fastbreak football, Johnson's triple option, and Rich Rodriguez spread, enjoy them! I'll take my smashmouth on Saturday and Sunday any day of the week.
Recruiting:
QB: A typical QB that you would like in this offense is a 6'2'' plus and then between 185 to 250 pound guy. An accuracy is a must something B+ and higher along with a cannon of an arm but can get away with B or up. Then I look for the added speed, acceleration and agility all of these are extras and not necessities.
FB: You typically won't find any FBs but a slower HB that you can find some impact blocking from or an athlete and you could also convert at TE and those are named H-Backs.
WRs: Mix in route runners, speed and height guys. I typically like WR that can get off the line and then run precise routes to get open. You then have to have your deep speed guy that can stretch the field and who you can hit on your deep play-action passes.
TEs: One blocking guy and then a guy that has nice hands and can catch in traffic. Heck you could just go with two blocking TEs and throw him and ball every now and then to keep the D honest.
OL: Run blocking and impact blocking are a must, if you can find low to mid 80 ratings in these two categories grab them. Pass blocking can lack a little but I would go down past 76 or so. You will also need to guards that have decent acceleration so he can pull on the power I or counter plays.
Atricle by: KnightNoles