Madden NFL Football 13 : Tradition Sports Online Review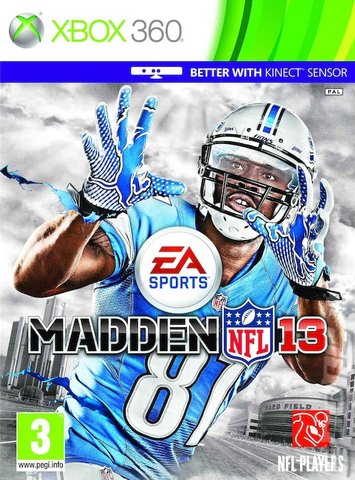 Since I was a sophomore in high school, this time of year always brought with it something very special for me. I've sacrificed many things for Madden over the years. Food, libations, school books, car payments.. you name it and at some point I probably sacrificed funds allocated for it to make sure that I can get Madden Football every year on launch day. I grew up with the game and it's a part of pop culture for many of us 1st generation gamers.
But the road has been long for the series and as of late, very winding. Over half a decade now since the next generation consoles were released and a large part of the customer base has been unhappy with the effort put forth by what is suppose to be the flagship franchise for EA SPORTS. The game has shown very little innovation over the last 5 years and more had been taken away from previous generation feature sets than had been gained by graphic enhancements and platform upgrades. Trying to understand this from a consumers stand point has been a very difficult process. We've watched other titles like FIFA, NHL and NBA2k constantly push the envelope of what is possible in sports gaming while Madden seemed to struggle with direction and creativity.
I can honestly say that with Madden NFL 13, EA SPORTS has finally put it's best foot forward and is pushing this game back to the front of the pack in the sports gaming landscape. I believe that this new Madden team, with guys like Roy Harvey and Josh Looman, fully understands what it takes to compete in the marketplace and what the future of Madden gaming should look like. Madden feels like a new game to me for the first time in 5 years.

Let's start with the biggest change in the title this year, Connected Career Mode or CCM. Ever since Head Coach 09 was published, the hard core Madden community has fantasized of a world where we would see that depth, that level of immersion and control, find it's way into Madden. This year Josh Looman was given the opportunity to do just that. Connected Career Mode is an all encompassing game mode that takes the place of Offline Franchise, Online Franchise and Superstar with one robust, diverse and very engaging career mode.
The concept is part Franchise Mode, part RPG and completely ridiculous in depth. I think in some ways, almost TOO deep for your average Madden gamer. Perhaps even your average hardcore Madden gamer.(looks around suspiciously). Luckily they have added in some one button automation for some of these tasks, otherwise you could spend literally hours trying to make sure you cover all your bases in between your actual games. Every week this year you will have to..
Progress each of your players manually by allocating their XP over all their ratings categories(you can globally auto progress if you want)
Scout college recruits individually by ratings categories.
Complete practice scenarios that will earn you valuable XP towards your Coaching goals
Manage your coaching schemes and related XP distribution. (for coach mode CCM)
Manage all contract negotiations with upcoming free agents.
Negotiate all proposed trades (cpu or human)
Manage your teams trading block.
Pre-season tasks also include cut down days
Your ability to complete these tasks in the most organized, creative and efficient manner will dictate how your franchise will stack up over the years to your peers, CPU or otherwise. In fact, that is a large part of what Connected Careers is about. Not just about connecting the game modes together, but a deeper connection to the game and the greats that have played in the NFL in the past. Your career is constantly evaluated against others in your league, but also against the legends of the game, giving you incentive to strive for respect among the greatest football players of all time.
Let's start with some basics, because you might be overwhelmed at this point. CCM has two modes. Player mode and Coach mode. Player mode puts you in the place of either a current NFL player, a historic NFL legend or you yourself imported into the NFL as a player through the gameface technology. Admittedly, I have not played much of CCM in this manner so I will defer to others to give you a more in depth perspective here. I will say that it is a full featured first person mode encompassing a lot of the features I'm about to go over in Coach Mode.
Coach mode is the long awaited replacement for the stale Franchise and Online Franchise modes that Madden had offered up the last few development cycles. 32 teams, acting as individual, competitive entities with tact and organization, all striving to build a championship teams. That is the type of experience we all want to be a part of. For the most part, it's now at your fingertips.
I say "for the most part" because they had to sacrifice a lot of legacy features to get there. NCAA import draft classes, roster editing, multi-user franchises, ability to play any game, equipment editing… all gone. It's a hard pill to swallow when you consider how long each one has been in the game. It takes some courage in your vision to completely turn in a different direction and implement something that, you as a developer, firmly believe in. That's what CCM is in Madden 13, the basis for a new direction for the series.
You can now bring together up to 32 people into one fully functional online league that rivals any game mode on the market today. Each coach will control one team in the CCM. All the goodies are there this year. Draft, salary cap, free agency are a integral part of each CCM and you have to manage them accordingly. All statistics are tracked over the games, seasons and even the careers of every single player in the CCM. There will be no need for additional stat tracking programs or websites that manage salary caps and trades. All of those features are built into the mode this year and the software and CCM website will handle it for you.
This year the CCM will start with a pre-season. It's a REAL pre-season too. You will have to make roster cuts each week until you progress down to the 53 man roster limit. It gets excruciatingly tough to make those last few personnel choices in week 4. Your pre-season games will also feature the usual depth chart re-ordering in the latter quarters of the game. This allows you plenty of in game experience with the back half of your roster as you go through the cut down process. There are few bugs with this process though, as you will find your kicker punting and vice versa, if you don't have adequate depth there (and who does).
You will also be able to offer trades to both CPU and Human teams (option to specify one or both) every week up until the trading deadline. These offers can also include draft picks. You can also put player on the trading block to prompt offers from other organizations who might be interested in your player. And they maybe interested, because players are rated dynamically this year. What I mean by that is, each player's overall rating can fluctuate based on what team he is on or what scheme he is playing in. A player that might not be good enough to see the field in New England might be a better fit for Green Bay and push his way into some playing time. Understanding your scheme and how that impacts everything you do in CCM is vital for success.
Importing NCAA draft class maybe gone for now, but you will have a very deep experience with the new scouting and storyline mechanisms in CCM. Each week you be allocated a certain amount of points which you can utilize to unlock the ratings categories of incoming rookies in next years draft. You are given some generalities about each player like projected round, size and production in college, but the rest is up to you to find out. There are two stages to the process. The initial minimal allocation of scouting points will open up a letter grade for a category. But if you want to know the actual rating you will need to spend substantially more to unlock it. The ranges in the letter grades can be substantial. I've seen up to an 11 point difference in actual rating based on having the same letter grade.
Some categories are extremely steep in point requirements to unlock. These are things like development, clutch and other highly sought after traits that could put a guy on the top of your board. You will have to spend your scouting points wisely to have a shot at feeling prepared for the draft. I found myself reaching for straws about the 4th round because I had not down a good job of focusing on later round players needed to fill a roster.
Some rookies will have branching storylines that you will follow all year long through news updates inside your CCM. These storylines can vary greatly and impact a college senior's ratings throughout the scouting process. Injuries during the season and even in the combine can impact their incoming draft status and ratings. You cannot predict draft classes anymore in Madden 13.
Each week you will also have to allocate some time to manually progressing your players. That's right, I said manually. There is no more potential rating. It is gone. Players only get better by performing on the field and translating that performance into ratings increases that you choose. Those increases will get progressively more expensive though, the higher the rating gets. You have to decide when your best efforts would be spent elsewhere. Points can be applied at any point in the season and you don't lose them if you skip a week.
This is the point at which you will find some utilizing the auto-progress feature. To manually go in and progress each player every single week is going to become tedious for even some of the hardest core gamers. It will be interesting to see how this deep feature is embraced by the community as a whole after a few months of grinding on it every day.
At the end of every season you, as a coach, will be evaluated by ownership against your contract goals and expectations. You can and will get fired if you do not meet those goals. Don't fret too much though, you can start over in the CCM without restarting the whole thing from the beginning. You do have options.
If all goes well you will move into a fully functional, living and breathing live draft where all that scouting work you put in during the season can be put to good use. Trey Wingo will be hosting as you plow through 7 rounds of goodness. Trading up, trading down, you will see it all, even from the computer. Having experienced this with 10 users, it was the most fun I've had in gaming ever. The Draft is just a great time, plain and simple.

Rookie contracts are slotted so there is no real negotiation process, you just agree and they are placed on you team at the pre-selected amount. Whether they all make your roster will be another story. Rookies that are cut will go out into the free agency pool. There is free agency both in season and during offseason so you will be able to fill out your roster with veterans too.
CCM is stat tracking machine too. It keeps all historical and career stats and allows you to compare and contrast the careers of any players in the league as well as identify and award Hall of Fame status to retiring players every year in your CCM if they are deserving. This is the kind of depth that adds to the extended playability to a game, online or offline.
One huge aspect of CCM that I have not touched on is the social media integration. EA SPORTS has revolutionized the way we will utilize twitter and facebook to connect with others in our Madden Connected Careers. There is a virtual twitter feed ever present inside your CCM where the pseudo accounts of former players, press and other football royalty will comment, praise and lament everything that is happening in your CCM.
It doesn't stop there though, you can then push that virtual feed out to a real twitter account that you can then follow, thus taking the virtual out of the feed and integrating it directly with an account you setup specifically to funnel the information out to the real world. Ingenious. There is additional support for Facebook groups, but the twitter aspect really has my social media weenie going crazy.
EA SPORTS has also gone the extra mile with CCM this year and built out a very extensive website at www.maddencareer.com that will bridge the gap between your console and your computer, integrating your experience like never before. The site is built in HTML 5 and brings you deep analytics as well as providing functional value such as providing the ability to advance your league from the web. This type of anywhere, anytime mentality has become the hallmark of Roy Harvey and his team on whatever projects they have taken on. I'm really impressed and inspired in the direction this team is headed with the online tools they are providing in Madden 13.
When you look at the whole package of what EA SPORTS has brought to the table with the new Connected Careers mode, you can't help but be impressed with the effort they have shown finally. It's been a long time coming but this overhaul is complete one and something that should provide much to chew on in the coming year.
The other major implementation in Madden 13 is gameplay related. The new INFINITY ENGINE is touted as EA SPORTS answer to the real time physics properties that they have been lacking in their Madden titles. This year, each player has up to 40 different tension points on their body that replicate the physics of body movement during contact. This physics model will be the driving force behind the majority of interaction animations you see and will work in conjunction with the motion capturing that EA SPORTS does for their tackle and hitting scenarios.
This new engine creates a much more organic feel to the interaction in almost every instance. Blocking, tackling, catching and even after play skirmishes and pile ups show the dynamic diversity that a real time physics engine like Infinity can bring to the playing field. The engine really shines in multiple player tackles and hits. Sometimes it can be less noticeable in 1 on 1 situations when a
The engine is not without flaws though. You will see some odd arm angles and contorted bodies at times. Your players might react a bit violently when colliding with teammates causing runners to fall down and such. Overall though, it's a pretty solid feel for a first attempt at integrating it into the game and I can tell they have tightened it up since the demo launch. I can't wait to see how far they can push this new engine. I expect big things down the road as EA SPORTS and Vic Lugo continue to leverage this new engine in years to come.
The sound in Madden 13 has also gotten a huge upgrades. Crowds cheer when they are suppose to, you hear team chants like "J-E-T-S JETS JETS JETS" done in a very realistic manner. You will also here real world QB cadences for up to 12 of the starters in the game. I wish they could have gotten more tough.. and I don't want to hear about there not being enough quality samples. You have access to every single game in all of NFL history at this point, make use of it. Bringing some of these custom elements to individual players should be a priority in the next few dev cycles.
Overall, I think this years Madden will go down as the beginning of a new era for the title. It's been a long time since I could say confidently say that in a review of this title. EA SPORTS has won me back with this effort. The replayability factor with this title appears to be extremely high. It's something new, something different and something REAL deep that I think will keep me coming back all year long.
I give Madden NFL 13 a 9.0 overall rating.